A more challenging route than the average reservoir walk, this hike runs passes around Thruscross Reservoir and through the moorland and rough pastures alongside the edge of the reservoir.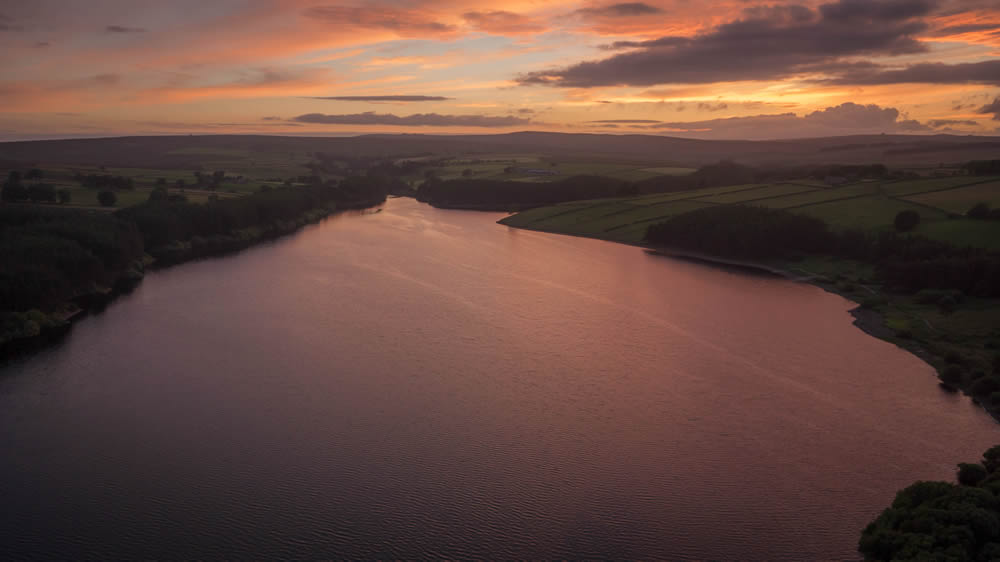 ---
The Route
what3words for start point: ///cyclones.fatigued.cookers
Start Point: Yorkshire Water free car park on Reservoir Road (HG3 4BB)
Finish Point: Yorkshire Water free car park on Reservoir Road
Distance: 5 Miles
GPX Route Map
Download file for GPS
Walk Description
Exit the car park by the main entrance. Turn left, cross the road into woods and follow the green way marker signs. Continue the path through the woods to Breaks Gill. Cross the bright and continue along the path, looking right to see a ruined mill in the water.
Continue through the wood, and after crossing a track and coming around an inlet, the path turns left and leaves the wood with a building on the right. The path becomes a track with walls on either side and reaches the main road.
Cross over the road, and follow the public footpath sign over the stile into the field. Follow the clear path on the ground to the right to a gap in the wall, then through another wall. Turn right to rejoin the road over the stile.
Turn left and then turn right after crossing the bridge, to walk a track along a stone wall. Keep the house to your left and enter into the field behind, heading for the top left corner. Walk along the wall to leave the fields, passing Whitmoor Farm on the right. Follow the signs, through the gap in the wall to turn left at the wood.
Walk along the field at the edge of the wood, crossing a stone stile and down the steps to the river. After crossing the bridge over the River Washburn, climb the stile directly in front of you and head uphill over the moor. The way is clear from the moor path on the ground. Cross a field boundary with a ladder stile, and after some time, the path gently descends to a ladder stile at the edge of the wood.
Follow the path to the water's edge and turn left to follow the edge of the reservoir past a small plantation. Ignore the road off to your left and instead continue along the path until you reach the fence alongside the public road. Find the gap and turn right onto the road.and follow it around to the car park.
Food afterwards
Try Otley, Ilkley, Pateley Bridge or Summerbridge, depending on which direction you are travelling.