An a out and back walk along the Aire and Calder Navigation from Goole to Rawcliffe Bridge.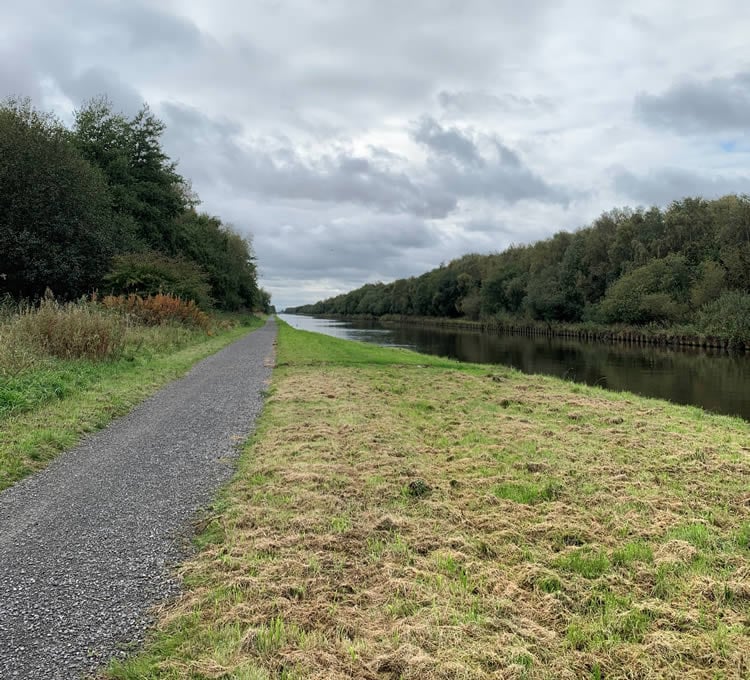 ---
Walk Route
what3words for start point: ///modifies.alley.pavilions
Distance: 4.6 miles
Start Location: Dutch Riverside, Goole
Finish Location: Dutch Riverside, Goole
---
OS Route Map & GPX File
The Ordnance Survey map below shows the full walk route, in pink. You can use this (try the full screen mode) on your smartphone to guide you where to go.
Download file for GPS
Download the GPX file for your GPS navigation device using the pink link above, and you'll be able to use this walk on your own devices.
---
Walk Description
The walk starts from Viking Marina, Dutch Riverside, Goole where parking is available in a layby.
Follow Dutch Riverside until you reach the end of the road and it becomes track. Continue to follow the track and pass the nature area, picking up a narrow bank until you reach the railway bridge which the Aire & Calder Navigation flows under.
This the end of the 162 miles Desmond Family Canoe Trail that goes always the way to Liverpool. The Railway Bridge is the start of the towpath that will take you to Rawcliffe Bridge.
There is plenty to spot as you walk; swans, ducks, barn owl boxes and on the opposite side of the canal is the Oakhill Nature Reserve.
3km from the Railway Bridge you will arrive at the end of the towpath. Although you can walk on further there is not a clear path.
Turning around here gives you a lovely 6 km riverside walk on the flat towpath surface. It can also be made into a circular walk if you return along the Dutch River but the guidance for this is not included here.