Dive into the extraordinary in Whitby, a charming coastal town in North Yorkshire, England. Beyond its stunning cliffs and famed ruins, Whitby offers a treasure trove of unconventional experiences.
Unearth dinosaur fossils, attend gothic festivals, and explore the eerie lore that inspired Bram Stoker's Dracula. This guide uncovers Whitby's most unusual attractions, promising a delightful journey of discovery for every curious traveler.
Welcome to Whitby – where the ordinary is always extraordinary.
Points Of Note
Break out of Whitby's escape room: Solve clues and puzzles in themed rooms with nods to local history
Explore the Dracula Experience: Walkthrough experience with live actors and special effects, exploring Dracula's connections to Whitby
Try fossil hunting along the coastline: Discover a variety of fossils including ammonites and belemnites, as well as Whitby jet
Visit the Whitby Museum: Explore fascinating collections and artifacts, including a Teleosaurus Chapmani skeleton and the Hand of Glory
Also see the video below:
Events In Whitby
Below can see some of the current events in Whitby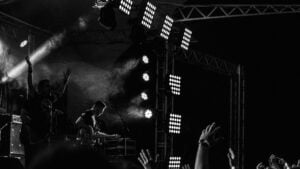 West Cliff, Whitby, YO21 3EN
Date & Time:
April 27th, 2024 7:30pm
Interactive Experiences in Whitby
Immerse yourself in Whitby's unique interactive experiences. Ranging from solving mysteries in themed escape rooms to exploring Dracula's connections to the town in a thrilling walkthrough experience.
Experience the adrenaline rush of having just 60 minutes to solve a puzzle at Eskape Whitby, the town's popular escape room. Once you've cracked the code, it's time to delve into the supernatural with the Dracula Experience, a chilling journey exploring the iconic vampire's ties to Whitby. But don't let the vampires bite!
Next, step into the shoes of a legendary explorer with the Captain Cook Experience. And end your adventurous day with Ghost Walks, shedding light on Whitby's eerie past.
Every experience is crafted to engage, entertain, and educate, making your visit unforgettable.
Outdoor Activities for Adventurers
Whitby offers a plethora of outdoor activities that cater to adventurers, ranging from fossil hunting along the scenic North Yorkshire coast to exploring the extensive military history of Eden Camp.
Whitby Abbey: Hike up to the hauntingly beautiful ruins, which inspired Bram Stoker's Dracula.
Fossil Hunting: Become an amateur palaeontologist for a day and uncover ancient treasures on the coastline.
Whitby Brewery: Quench your thirst after an adventurous day with a local beer, brewed with a view of the Whitby Abbey.
Boat Trip: Embark on a boat trip for a unique perspective of Whitby's picturesque coastline, perhaps you'll even spot some marine wildlife!
Whitby delivers outdoor activities for adventurers, guaranteed to stir the spirit of exploration.
Uncovering Whitby's Cultural Attractions
The cultural allure of Whitby is marked by its rich history and unique attractions, promising an immersive exploration of its past. The town's dedication to preserving its heritage is evident in the array of cultural landmarks dotting its landscape.
| Attraction | Description | Location |
| --- | --- | --- |
| Whitby Museum | Houses collections that reflect Whitby's history | Pannett Park |
| Captain Cook Memorial Museum | Tribute to the famous explorer's early life | Grape Lane |
| Pannett Park | Beautiful public park with historical artifacts | St Hilda's Terrace |
| Pannett Art Gallery | Showcases local and international art | Pannett Park |
Each site offers a glimpse into the town's past, from the seafaring days of Captain Cook to the artistic expressions housed in Pannett Art Gallery. These cultural attractions lend an enriched depth to any Whitby visit.
Exciting Whitby Festivals and Events
How often do you get the chance to experience a gothic festival or a ghost walk in a historic coastal town? Visiting Whitby offers such unique experiences, especially through its exciting festivals and events. Here are four not-to-miss occasions:
Whitby Goth Weekend: Touted as the world's premier goth festival, this vibrant event paints the town in shades of black, attracting thousands of enthusiasts from around the globe.
Bram Stoker Film Festival: It celebrates the author's connection with Whitby and the vampire legacy.
Whitby Regatta: An age-old tradition with yacht races, rowing competitions, and fireworks.
Ghost Walks: Led by experienced guides, these walks dive into Whitby's haunting folklore and mysteries.
These worlds premier goth events and other cultural festivities make Whitby an exciting destination.
Exploring Whitby's Historical Folklore
Immersing oneself in the historical folklore of this coastal town offers a unique and intriguing perspective on Whitby's past.
One of the most thrilling ways to explore Whitby is by embarking on a ghost walk. Led by a locally born storyteller, these spine-tingling tours take you on a journey through the eerie side of Whitby's history.
As you meander the winding Whitby way, you'll hear chilling tales of ghostly apparitions and the town's dark past. These nocturnal adventures are a must for anyone wanting to delve deeper into the town's folklore, and offer a memorable twist on the usual sightseeing activities.
How to Reach Whitby
Often, visitors choose to reach Whitby by driving from London, a journey that typically takes approximately four hours. However, there are other travel options to this charming North Yorkshire town, famed for its picturesque Whitby Harbour and the winding River Esk.
Train: Regular services run from London to York, where you can connect to a local service to Whitby.
Bus: Various coach services travel to Whitby from cities across the UK.
Air: The nearest airports are Leeds Bradford and Newcastle, both of which are about two hours' drive away.
Sea: Whitby Marina provides berthing for those arriving by sea.
Whichever way you choose to travel, the beauty of the North York Moors awaits you in Whitby.
Navigating Around Whitby
With its compact size and walkable streets, getting around Whitby is a relatively straightforward experience for both locals and tourists alike.
Walk in the footsteps of Captain James Cook, who began his seafaring career here. Marvel at the engineering prowess of the swing bridge, a delightful spectacle when it opens for passing vessels.
Wander down to the West Pier, where you can taste fresh seafood with a side of salty sea air. For a deeper dive into Whitby's rich tapestry, guided walking tours are a must. These tours offer intriguing insights into Whitby's local history, peppered with tales of seafaring heroes, gothic legends, and even a dash of the supernatural.
Navigating Whitby is not just about getting from A to B, but stepping into a story at every turn.
A Glimpse Into Whitby's Past
Delving into the rich tapestry of Whitby's past, one finds a fascinating blend of maritime heritage, gothic folklore, and prehistoric fossil discoveries. This quaint seaside town cradles tales of Captain Cook, who began his sea-faring journey aboard the HMS Endeavour from Whitby.
The Whaling Industry: Visit the Whitby Museum to learn about its once-thriving whaling industry.
Bram Stoker's Influence: Trace the steps of Bram Stoker, whose famous novel 'Dracula' was inspired by the mysterious Whitby Abbey.
Whitby Jet: Discover the history of the locally found Whitby jet, a precious black stone, at the Whitby Jet Heritage Centre.
Captain Cook: Explore the Captain Cook Memorial Museum, housed in the building where the legendary explorer served his seaman's apprenticeship.
This trip down memory lane will add depth to your Whitby visit.
Fun-filled Activities in Whitby
While Whitby is steeped in history and folklore, it also offers a plethora of exciting activities for visitors seeking an adventurous and fun-filled experience. This beautiful seaside town has something for everyone, from fossil hunting on its rugged beaches to indulging in the best fish and chips at the famous Magpie Café.
| Activity | Description | Location |
| --- | --- | --- |
| Fossil Hunting | Explore the coastline and discover prehistoric treasures. | Whitby Beaches |
| Visit the Magpie Café | Enjoy delicious seafood in this renowned restaurant. | Pier Road |
| Explore the Whale Bone Arch | A historic monument offering panoramic views. | North Terrace |
| Guided Walks | Learn about Whitby's rich history and folklore. | Various Locations |
Don't forget to take a stroll under the iconic Whale Bone Arch, and join one of the many guided walks to fully immerse in Whitby's charming ambiance.
Whitby Abbey and Bram Stoker's Dracula
One significant element of Whitby's rich history is its connection to Bram Stoker's famous novel, Dracula, with the eerie ruins of Whitby Abbey serving as a key source of inspiration.
Among the unusual things to do:
Visit Whitby Abbey: The authentic replica of the ancient abbey is a must-see. The silhouette of the Gothic ruin against the sky is a sight to behold.
Dracula Experience: This interactive tour showcases the town's connection to Bram Stoker's Dracula. You might even meet the night watchman!
Dracula's Bench: Sit on the very bench where Stoker found inspiration for his novel.
Whitby Museum: Discover more about the town's Dracula connection and its maritime history.
These attractions add a touch of macabre fun to a visit to Whitby.
Experiencing Whitby Goth Weekend
Immerse yourself in the world's premier goth festival, Whitby Goth Weekend, which transforms this small coastal town on the Yorkshire coast into a vibrant hub of dark fashion, music, and culture.
Twice a year, the air in North York becomes thick with a sense of mystery and excitement as Goths from around the globe descend on Whitby. Wander along Church Street, where cobblestones echo with the sound of Victorian boots, and the town's narrow lanes brim with alternative merchandise.
Ascend the East Cliff to witness a sea of black-clad figures juxtaposed against the majestic ruins of Whitby Abbey. Whether you're a dedicated Goth or a curious observer, this unusual event promises a captivating experience unlike any other.
The Tomorrows Ghosts Festival
Frequently following the Whitby Goth Weekend, the Tomorrows Ghosts Festival offers another unique opportunity for visitors to delve into the gothic subculture of this charming seaside town. This event hosts a variety of gothic rock bands, art exhibitions, and film screenings.
Mingle with the gothic community: The festival is a melting pot of gothic culture enthusiasts, providing a chance to meet like-minded individuals.
Explore the West Cliff: The festival venue offers a fantastic view of the stunning West Cliff.
Visit Robin Hood's Bay: A short drive away, this spot offers fossilised wood and a chance to explore the Jurassic coast.
Whitby Museum: Don't miss the local museum housing unique collections, a fun detour on the way to the festival.
Embrace the dark side of Whitby and immerse yourself in a truly unique experience!
Shopping at The Bizarre Bazaar
Exploring The Bizarre Bazaar presents a unique shopping experience in Whitby, offering a wide range of unconventional and quirky products that cater to the eclectic tastes of its visitors. Nestled in the east side of town, spend an afternoon exploring the curious case of this market, gaining intimate knowledge of its peculiar offerings. Whether it's vintage clothing, quirky home décor, or unconventional accessories, The Bizarre Bazaar has it all.
| Visit for | Discover | Take Home |
| --- | --- | --- |
| An eclectic experience | A curious case of oddities | A quirky memento |
| An afternoon exploring | The east side charm | A unique gift |
| Your next trip to Whitby | Intimate knowledge of Whitby's quirkiness | A piece of Whitby's eccentricity |
Don't just visit Whitby, experience it in all its bizarre glory at The Bizarre Bazaar.
Dracula's Connection to Whitby
Continuing from our journey in the quirky Bizarre Bazaar, a fascinating and somewhat eerie aspect of Whitby's history is its connection to Bram Stoker's famous novel, Dracula. As a fishing village on the North Sea, Whitby's haunting atmosphere and Gothic architecture captured Stoker's imagination.
Whitby Abbey: Inspiration for Dracula's castle, it's perched ominously atop East Cliff. Imagine the Count descending these 199 steps!
St Mary's Churchyard: Its box pews and location next to the Abbey make it a key Dracula locale.
Rosedale Abbey: While not directly linked to Dracula, its mystery and beauty add to Whitby's overall Gothic charm.
The Dracula Experience: Traverse through the novel's key scenes. Don't miss the world's largest piece of Whitby jet, eerily perfect for a vampire's adornment.
Ghost Walks in Whitby
Whitby's haunting history is best experienced through its chilling Ghost Walks, immersing visitors in tales of the supernatural and folklore that permeate this ancient coastal town.
As the sun sets, brave souls gather at the market square, embarking on a journey that weaves through dimly lit alleyways and cobbled streets. The eerie narration by knowledgeable guides, coupled with the sporadic cries of seagulls overhead, adds an extra layer of spine-tingling authenticity.
Following the ghostly tour, why not unwind at a delicious on-site restaurant, serving hearty meals to calm your jangled nerves.
Perhaps, a twilight stroll on the blue flag beach would be a fitting end to your day, with the haunting whispers of Whitby's phantoms echoing in the sea breeze.
Popular Questions
Below you can see some popular questions we're asked about things to do in Whitby
What Are Some Lesser-Known Local Dishes or Restaurants to Try in Whitby?
The Magpie Café, known for its fish and chips, is a must-visit in Whitby. For unique local dishes, try Humble Pie 'n' Mash or the seafood at Trenchers. Don't miss Whitby's famous Fortune's Kippers.
Are There Any Unique Accommodation Options Available in Whitby, Such as Historic Inns or Boutique Hotels?
Yes, Whitby offers unique accommodations such as the historic Bagdale Hall, a Tudor manor house, and the boutique La Rosa Hotel, known for its quirky, vintage-inspired decor and sea-view rooms.

Are There Any Unusual or Lesser-Known Landmarks in Whitby That Are Worth Visiting?
Yes, Whitby has several lesser-known landmarks worth visiting. These include the Whalebone Arch, a tribute to the town's whaling history, and the Caedmon Cross, an intricate monument celebrating a local historic poet.
Does Whitby Have Any Notable Local Artists or Galleries to Explore?
Yes, Whitby boasts local artists and galleries. The Pannett Art Gallery showcases works from local artists and the heritage of the region. The Whitby Galleries feature a variety of art, including unique depictions of Whitby itself.
Are There Any Unique Local Traditions or Annual Events in Whitby That Haven't Been Mentioned in the Article?
Yes, Whitby hosts the annual Whitby Folk Week, a celebration of traditional music, dance and song. Additionally, it holds the Seafood Festival, showcasing the town's rich maritime and culinary heritage, both offering unique local experiences.
Accommodation Options While In Whitby
Below you can see some of the options available to booking while in the area.