Welcome to Leeds Kirkgate Market, a vibrant hub of commerce and culture in the heart of the city.
This bustling marketplace, one of Europe's largest, offers a diverse offering of traders and products, and a rich culinary scene.
Its historical significance and lively atmosphere make it a must-visit destination for both locals and tourists.
Explore the market's many facets, from its heritage as the birthplace of Marks & Spencers to its status as a platform for engaging events.
Key Points
Leeds Kirkgate Market offers a wide variety of cuisines, including shawarmas, chapatis, crepes, cockles, Yorkshire puds, and fine patisserie.
The market now serves beer and wine in addition to coffee, tea, and smoothies, making it a great place to socialize and enjoy a drink.
Leeds Kirkgate Market is not only a shopping destination but also an immersive experience with its sights, smells, and sounds. The new events space has elevated the market's experiential offerings, hosting events such as vintage fashion fairs, food and drink festivals, plays, and live music.
Historical Overview of Kirkgate Market
Established over a century ago, Leeds Kirkgate Market holds a rich history as a vital hub for trade and commerce in the city. A listed building, the market has been home to businesses spanning generations, each one adding a unique chapter to the historical overview of Kirkgate Market.
A walk around the bustling stalls is a journey back in time, echoing the clatter and chatter of our forefathers haggling over fresh produce.
The market's longevity is a testament to the strength of community spirit, as traders and customers have weathered storms both literal and economic.
Today, Leeds Kirkgate Market remains a vibrant testament to the city's heritage, where the echoes of the past harmoniously blend with the buzz of the present.
Kirkgate Market's Size and Scope
Spanning a substantial area, Leeds Kirkgate Market is one of the largest indoor markets in Europe, boasting a diverse array of vendors and products. It's a place that bustles with character, marked by the lively banter of traders and customers.
Here's a snapshot of its vastness:
The market is home to over 800 stalls, each filled with unique products and a story to tell.
These stalls include food vendors offering delicious and diverse eats, from traditional Yorkshire fare to international delights.
In addition to food, there's a myriad of traders selling everything from fashion to homewares.
The market isn't just large in physical size. Its impact on Leeds is substantial, with its rich history making it a landmark and its vibrant atmosphere making it a beloved destination.
Unique Traders at Kirkgate Market
The diverse array of traders at Kirkgate Market, offering goods from across the globe, truly distinguishes this market as a unique shopping destination in Leeds. You'll find unique traders at Kirkgate Market who've been there for generations, their characterful stalls lining Vicar Lane. They're a friendly bunch, eager to share stories of their trade while filling up your shopping bags bulging with fresh produce, craft items, and antiques.
Here's a snapshot of some of them:
| Trader's Name | Goods Offered | Stall Location |
| --- | --- | --- |
| John's Fruit & Veg | Fresh produce | Stall 28 |
| Mary's Antiques | Vintage items | Stall 50 |
| Crafty Corner | Handmade crafts | Stall 76 |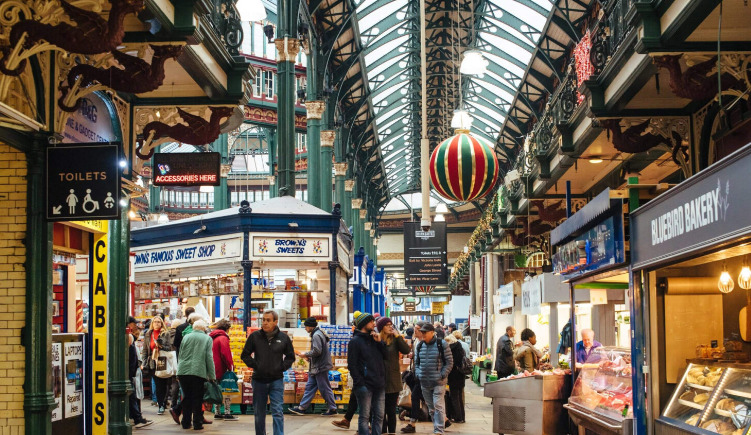 Visiting Leeds Market is not just about shopping, it's an experience steeped in tradition and local flavor.
Weekly Events at Kirkgate Market
Diversity is a hallmark of Kirkgate Market, with its weekly events schedule providing a vibrant showcase of local culture, gastronomy, and entertainment. Leeds Kirkgate Market is not just a place to shop; it's a place to experience, engage, and enjoy.
Food Events:
Traditional Yorkshire food fairs
International cuisine tastings
Cultural Events:
Live music shows featuring local talent
Art exhibitions showcasing regional artists
Special Events:
Vintage fashion fairs
Seasonal festivals and celebrations
The new events space enhances the market's ability to host events, transforming it into a bustling hub of activity. From the aroma of exotic spices to the sound of live music, weekly events at the market are a sensory feast, offering a slice of life in Leeds.
Variety of Goods at Kirkgate Market
From fresh food and fashion to homewares and jewelry, Leeds Kirkgate Market offers an extensive array of goods catering to diverse consumer needs. As one of Europe's largest indoor markets, its variety of goods at Kirkgate Market is reflected in the broad range of items available to shop. Leeds Kirkgate Market is home to some of the most characterful traders in the region, each offering a unique selection of products.
| Fresh Food | Fashion | Homewares |
| --- | --- | --- |
| Fruits & Vegetables | Clothing & Accessories | Kitchenware |
| Meat & Seafood | Shoes & Handbags | Decorative Items |
| Bakery & Confectionery | Jewellery | Furniture |
Whether you're after a bite to eat, a new outfit, or a piece of furniture, you're bound to find it when you shop Leeds Kirkgate Market.
Culinary Diversity at Kirkgate Market
In addition to its vast array of goods, Leeds Kirkgate Market also boasts an impressive culinary diversity, offering a plethora of food and drink options to satisfy any palate. Its food court, a real go-to for locals and tourists alike, is known for delivering some seriously good eats.
Market Kitchen:
Traditional Yorkshire puds
Exotic shawarmas and chapatis
Sweet Treats:
Fancy French patisserie
Classic British crepes
Drinks Corner:
Locally brewed beer
Smoothies with the freshest fruits
With such a wide selection of tantalising options, it's near impossible to leave hungry from Kirkgate Market Leeds.
This hub of culinary diversity at Kirkgate Market truly captures the taste of Leeds, making it a must-visit for food enthusiasts.
Unforgettable Food Experiences at Kirkgate
Over time, Kirkgate Market has become internationally renowned for its unforgettable food experiences, offering a unique blend of traditional and exotic cuisines that cater to all tastes. Nestled in the heart of Leeds, this shoppers paradise presents a key part of the city's vibrant retail scene.
From the tantalising aromas wafting from the bakeries, to the mouthwatering fresh produce displayed by the greengrocers, Kirkgate is an epicurean delight. Whether it's a bite of spicy shawarma or a taste of sweet, homemade fudge, unforgettable food experiences at Kirkgate are aplenty.
As the city's essential shopping destination, it's not just about the food. With its rich history and diverse offerings, Kirkgate Market Leeds is indeed a feast for all senses.
Retail Therapy at Kirkgate Market
Beyond the gastronomic delights, Kirkgate Market also serves as a haven for shoppers, offering a myriad of retail outlets that cater to a multitude of tastes and preferences. This Leeds Markets location is a bustling shopping hub, providing retail therapy at Kirkgate Market that is both varied and enjoyable.
Farmers Market: Offering fresh, locally sourced produce, this market is a must-visit for foodies and home cooks.
Fruit & Veg Stalls: A rainbow of fresh produce.
Butcher Stalls: Quality meats from local farms.
Artisanal Product Stalls: For unique, homemade goods.
Fashion Retailers: From vintage clothing to contemporary fashion, there's something for everyone.
Homeware Stores: Offering a wide range of products to spruce up your living space.
A trip to Kirkgate Market Leeds is an experience filled with nostalgia, a throwback to traditional market shopping.
Fashion Finds at Kirkgate Market
Discover a treasure trove of fashion finds at Kirkgate Market, where a diverse range of clothing retailers provide options for every style and budget. From high-street favourites to quirky independent businesses, there's a shop for every fashionista at Kirkgate Market Leeds.
Vintage fashions fairs are a regular occurrence, attracting both locals and tourists with their unique and retro finds. The market's shops hold a multitude of treasures, from timeless classics to trendy pieces. Whether you're in need of a wardrobe refresh or hunting for that perfect, one-of-a-kind item, Kirkgate Market has got you covered.
Combine your love for fashion with the charm of local shopping at Kirkgate Market, and create unforgettable style stories.
Homewares and Jewellery at Kirkgate
While fashion finds are a significant draw at Kirkgate Market, the variety of homewares and jewellery available also make it an ideal destination for those seeking unique and quality items for their homes or personal collection.
Shoppers who visit are often fascinated by the array of trinkets, decor, and precious pieces that can be found in various stalls.
Homewares:
Vintage items that add a nostalgic touch to any home.
Handcrafted ceramics and textiles from local artisans.
Unique, quirky items that are hard to find anywhere else.
Jewellery:
Affordable yet stylish fashion pieces.
Handmade jewellery from local designers.
Vintage and antique pieces for collectors.
The range of homewares and jewellery at Kirkgate Market Leeds truly offers something for everyone.
Experiencing Kirkgate Market: Top Tips
Navigating Kirkgate Market Leeds effectively requires a few insider tips to enhance your shopping and culinary experience. This vibrant outdoor market, a cornerstone of Yorkshire life, is a must-visit.
Firstly, don't miss the farmers market held every Sunday. Here, you'll find a myriad of local produce, from fresh fruits and vegetables to homemade jams and honeys.
Be sure to grab some Yorkshire puds from one of the many food stalls. The taste is simply divine.
After exploring the market, take a detour to the Corn Exchange. This magnificent Victorian building is home to a range of unique, independent shops that are well worth a visit.
Leeds Highlights Walking Tour
Exploring the city through the Leeds Highlights Walking Tour offers visitors a comprehensive overview of Leeds, including a visit to the iconic Kirkgate Market. This is a grand old venue, teeming with history and charm. You'll get to experience the hustle and bustle of this vibrant market, which has been a cornerstone of Leeds for over a century.
The opening hours are generous, giving visitors plenty of time to soak in the sights, smells and tastes on offer. From fresh produce to handmade crafts, there's a treasure trove of goods to explore.
The Leeds Highlights Walking Tour is a fantastic way to learn about the city's history while experiencing the energetic atmosphere of Kirkgate Market Leeds, a true jewel in the city's crown.
Leeds Scavenger Hunt Experience
A unique way to experience Kirkgate Market and the city of Leeds is through the engaging Leeds Scavenger Hunt Experience. This exciting activity transforms the bustling market into a thrilling playground. Participants are given clues to solve, leading them to various parts of the historic market.
The Leeds Scavenger Hunt Experience includes:
Exploring the vibrant Asian Bazaar, a staple of the Kirkgate Market Leeds.
Visiting the newly developed event space, brimming with commodities and rich history.
The rewarding feeling of your shopping bags filling up with fresh produce, unique trinkets, and more as you complete each challenge.
The Scavenger Hunt not only provides a fun-filled outing, it also offers a unique way to engage with the rich culture and history of Leeds.
Leeds Tour App and Games
In the midst of the bustling Kirkgate Market, the Leeds Tour App and Games provide an interactive way for visitors to uncover the rich history and culture of the city.
This tech-savvy tool, available even on a busy Wednesday morning, guides you through the market, one of the largest in Europe, and its surrounding buildings.
The app, updated weekly, includes trivia and challenges that add a sprinkle of fun to your market wanderings.
It also directs you to the new event space, a hub for various cultural activities.
The app and games not only bring the past of Kirkgate Market to life, but also keep you informed about its vibrant present, ensuring you're part of the market's evolving story.
Treasure Hunts Around Leeds
Offering an engaging twist on sightseeing, treasure hunts around Leeds help visitors discover the city's hidden gems, including the historic Kirkgate Market. This social destination is elevated to a whole other level with these hunts, turning a regular shopping trip into an exciting adventure.
Kirkgate Market
An incredible range of products, including fascinating jewellery pieces, await discovery.
The market itself is a treasure trove of unique finds.
Events Space
The market's events space often hosts treasure hunts, adding an interactive element to the experience.
Leeds City
Leeds is rich with history and culture, and treasure hunts can lead participants to uncover previously overlooked aspects of this vibrant city.
Treasure hunts around Leeds, then, are not just games – they are unique, immersive experiences that reveal the heart and soul of this lovely city.
Exploring Local Food in Leeds
The exploration of local food in Leeds begins with the diverse culinary offerings at Kirkgate Market. This bustling hub is chock-full of tasty morsels, from the freshest fish to the finest patisserie, all served with a friendly Yorkshire charm.
The market has evolved with the times, now boasting later opening hours for the night owls among us. It's not just grub on the menu either – Kirkgate hosts regular drink festivals, where local brewers showcase their tantalising tipples. The mingling scents of food and drink create a nostalgic atmosphere that's hard to resist.
Exploring Leeds' local food scene is a feast for the senses, and Kirkgate Market sits at the hearty centre of it all.
After fully indulging in the culinary delights at Kirkgate Market, visitors might consider embarking on the 'Emmerdale Classic Locations Bus Tour', a popular attraction that offers a unique journey into the heart of one of UK's most beloved soap operas. This tour operates in and around Leeds and gives fans a chance to experience the iconic sites featured in the show.
Main Features:
Live commentary and behind-the-scenes stories
Visit to the classic outdoor Emmerdale site
A stop at the Woolpack, the show's popular pub
With a dash of nostalgia, visitors can reminisce about classic episodes while enjoying the picturesque Yorkshire countryside. From fashion sold by the characters to the beauty of the show's flowers, this tour captures the essence of Emmerdale.
Leeds United at Elland Road
Frequently, visitors of the Kirkgate Market choose to continue their Leeds exploration by heading to Elland Road, the renowned home of Leeds United football club. This iconic stadium with a rich history has been Leeds United's ground since its foundation in 1919. The passionate fans, colloquially known as 'the Peacocks', certainly add to the electric atmosphere during match days.
For football enthusiasts, a visit to the Leeds United Museum is a must. Here, one can relish the club's glorious past, marked by numerous triumphs and legendary players.
Interesting Facts About Elland RoadDetailsCapacity37,890Opened1897Record Attendance57,892 (vs Sunderland, 1967)
Private Yorkshire Dales Day Trip
Offering an escape from the urban bustle, a Private Yorkshire Dales Day Trip provides visitors an unparalleled opportunity to explore the picturesque landscapes and quaint villages of this stunning region. Transported in a comfortable private vehicle, each journey is tailored to individual preferences, ensuring a truly personalised experience.
Highlights of the trip include:
Visiting the historic Bolton Abbey with its beautiful ruins and tranquil river setting.
Exploring the charming market towns of Settle and Skipton, each brimming with unique shops and traditional Yorkshire hospitality.
Marveling at the natural beauty of Malham Cove, a stunning limestone formation and popular climbing spot.
Immersing oneself in the Dales' rich history, captivating scenery, and warm local culture is an unforgettable experience, a must when visiting Leeds.
North York Moors and Whitby Day Tour
Why not explore beyond Leeds with a North York Moors and Whitby Day Tour?
It's a grand day out, right enough.
You'll travel through the stunning North York Moors, with its rolling hills and deep valleys, where the air is as fresh as it gets.
Next, you'll find yourself in the charming seaside town of Whitby, known for its striking Abbey ruins and association with Bram Stoker's Dracula.
Take your time wandering the narrow streets, sampling the legendary Whitby fish and chips, or even a Whitby Jet souvenir.
Don't forget to take a stride along the harbour with an ice cream in hand.
It's a trip that'll leave you with memories as rich as a Yorkshire pudding.
Where To Stay Nearby
Popular Questions
What Are the Opening Hours of Leeds Kirkgate Market?
Leeds Kirkgate Market operates from Monday to Saturday. The general market opens at 8:00am and closes at 5:30pm. However, the butchers and fish market opens earlier at 7:00am, providing ample time for shopping.
Are There Any Parking Facilities Available Near Leeds Kirkgate Market?
Yes, there are multiple parking facilities available near Leeds Kirkgate Market. Some popular options include Victoria Leeds Multi-Storey Car Park, NCP Car Park Leeds The Markets, and Q-Park St John's Centre.
Does Leeds Kirkgate Market Offer Any Special Discounts or Promotions?
Leeds Kirkgate Market frequently runs special promotions and discounts, enhancing its appeal for savvy shoppers. Details are typically announced on their official website or social media channels, offering great savings on a range of goods.
Are There Any Accessibility Features for Disabled Visitors at Leeds Kirkgate Market?
Leeds Kirkgate Market is committed to inclusivity and offers several accessibility features. These include wheelchair-accessible entrances, wide aisles for easy navigation, and accessible restrooms to accommodate visitors with mobility impairments.
Can I Bring My Pet to Leeds Kirkgate Market?
While specific pet policies may vary, generally, markets like Leeds Kirkgate Market allow service animals. For non-service pets, it's advised to contact the market directly to confirm their specific pet-friendly regulations.
Final Notes
Leeds Kirkgate Market is a vibrant melting pot of culture and commerce, boasting a rich history and a diverse range of offerings.
Its unique traders, multitude of goods, and lively events foster an engaging atmosphere, while its close proximity to other attractions enhances its appeal.
Promising an immersive experience for visitors, the market remains a dynamic hub in Leeds, testament to its enduring relevance and charm.