An easy woodland trek through Hebden Dale to a 19th-century cotton mill along Hedben Beck.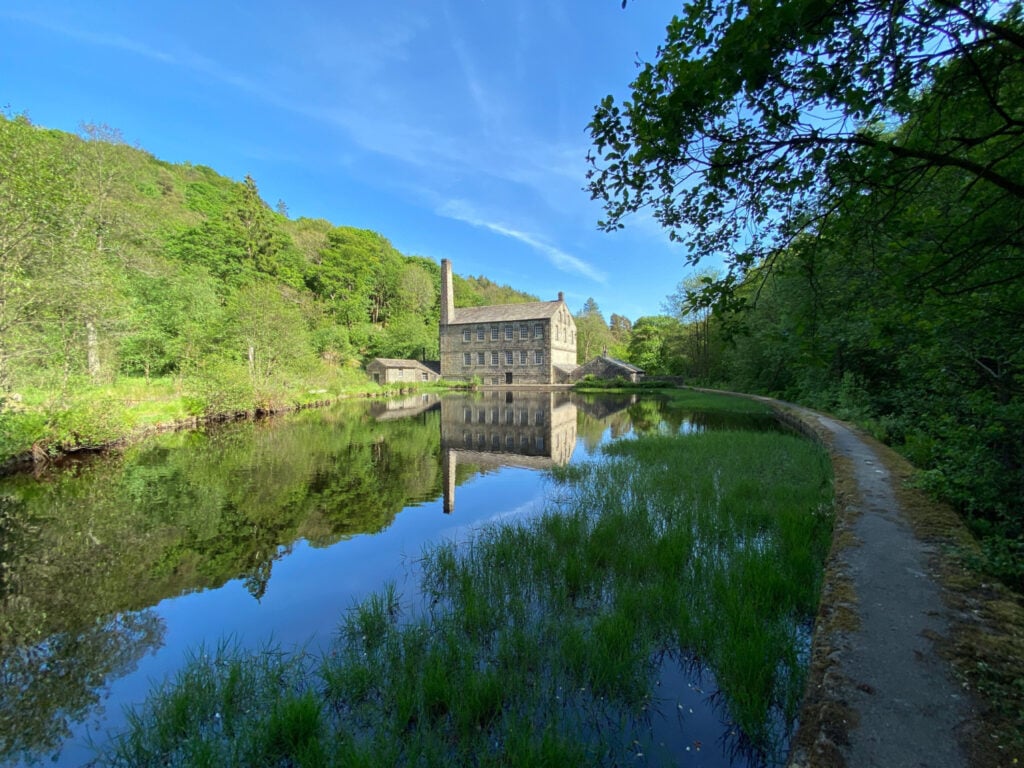 ---
The Route
GPX Route Map
Download file for GPS
---
Walk Description
From the car park, head back the way you drove in, to the information kiosk on Midgehole Road. Turn left and at the direction signs, follow the direction of the "Mill Walk" as it doubles back and starts to drop down. Follow the path down to the riverside picnic area. Follow the path along the riverside upstream and then into the woods.
There's plenty of evidence of the valley's industrial past around as you walk past the various weirs and mill ponds. Continue along the riverside path, climbing a flight of steps and then dropping back down to the river by a set of stepping stones. This was a popular spot in the early 20th century for people coming for a day out. Look out for many different types of birds at this point.
Continuing along the riverside path to walk past Gibson Mill, a 19th-century former cotton-spinning and weaving mill, now in the care of the National Trust. Carry on along the path into Hebden Dale, ignoring the smaller path down to the river on the left. The path starts to climb as it passes through Walshall Wood.
At the triangle junction, keep to the right, and continue climbing on the path until it leaves the woods as it meets Cow Hey Lane. Turn sharp right here to walk along Cow Hey Lane, so Walshall Wood will be on your right.
Follow Cow Hey Lane, with its great view across the Hebdon Dale, as it passes numerous farms all the way to the village of Shackleton. Here, take the right fork onto Cow Lane. After Stoney Park Farm, the road starts to drop fairly sharply and turns to the left. After entering Hollin Hall Wood, turn sharply right at the junction, and follow the road all the way back to the car park.