A 7.5 mile walk over easy terrain

Parking – Public Car Park at Market Weighton

This popular route makes for an easy half day walk if you are looking to explore somewhere away from the Yorkshire Dales or North York Moors. Setting off from Market Weighton the walks showcases some lovely rolling countryside in the eastern part of The Yorkshire Wolds.

There is plenty of parking in Market Weighton and a public toilet, so I would suggest that you start the walk from the life-size wooden statue of William Bradley (AKA Bradley the Giant) a previous resident of Market Weighton, who at 7ft 9 inches was the tallest British man to have ever lived!

Head out of the village on the York Road (A1079) and just after the last house you can pick up a footpath across farmland and signed for the long distance trail – The Yorkshire Wolds way.

Follow the paths across a number of fields before meeting a busy road, (A614) which you need to cross, and pick up a track passing Towthorpe Grange. This well-signed path still following the Yorkshire Wolds Way meets another road – Intake Hill – where you will need to turn left walking up the road for about 20m before meeting a path on the right, signed Londesborough.

The old gateposts of the Londesborough Estate give you a clue as to being on the right track. The path eventually forks in the parkland and I recommend taking the left fork into Londesborough Village leading to its beautiful Grade 1 listed medieval church.
From here retrace your steps and pick up The Yorkshire Wolds Way again. You cross lovely parkland and a small footbridge between two lakes. From here you need to walk up the hill to a farm road. Follow the farm road until you reach a main road and keep walking straight on, following an obvious path along an old section of Roman Road.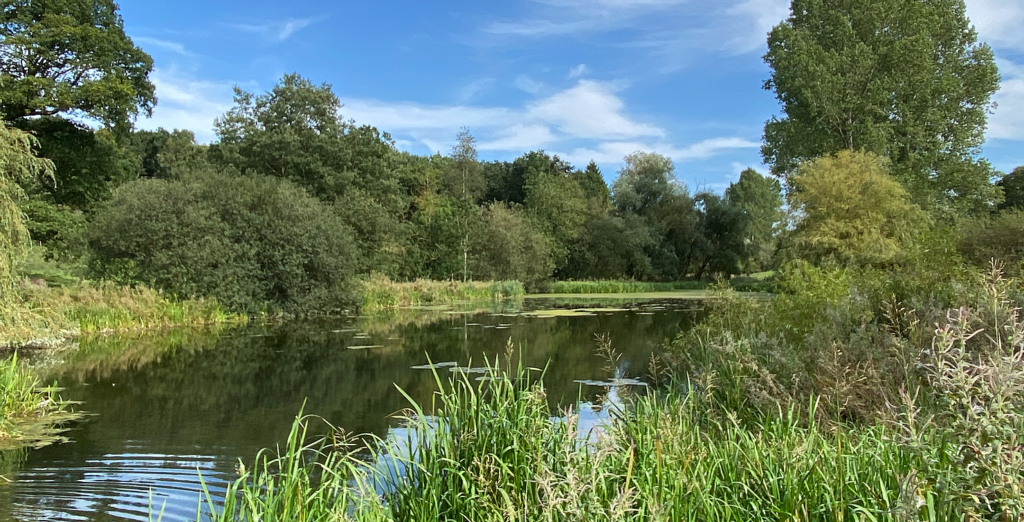 Eventually the path veers to left and first takes you underneath the Market Weighton to Driffield railway line before arriving in Goodmanham (see link to the Real Yorkshire Blog at the end of this description for more information on the history of the area).

There is a pub at Goodmanham if you want to grab a quick pint (the Goodmanham Arms). At Goodmanham, walk up to the Church before turning left onto the main road along the high street before taking the first right turn onto a very minor road, which you need to follow along farmland for about a kilometre.
Eventually you will meet the old disused railway line known as the George Hudson Way. The railway line is easy to follow and popular with walkers, taking you all the way back into Market Weighton. On the way back along the railway line look out for St Helen's Well dating back to Roman times.