Welcome to the vibrant and bustling Huddersfield Market, a hub of local goods and rich history.
As you move through, you'll find fresh produce, artisan crafts, and hidden treasures. Each stall has its own unique story, inviting you to become a part of Huddersfield's community.
So, put on your comfortable shoes and prepare for a unique market experience.
This isn't just about shopping, it's about experiencing the true spirit of Huddersfield.
Point Of Note
Huddersfield Market is not just a place to shop, but it also serves as a vibrant community hub filled with local items and unique stories. The market is user-friendly, with a comprehensive directory, regular schedules, and easy access. Don't miss the chance to provide feedback and participate in events. Remember, your involvement helps support local communities and enhances the overall market atmosphere. Plan your next trip to Huddersfield Market and immerse yourself in a true West Yorkshire English market experience.
Below is an aged but interesting video of the open market.
Highlighting Local Organizations and Activities
When you visit Huddersfield open market, you'll encounter a range of local organizations and activities that invigorate this historic community center.
Every Saturday, local culinary creators gather to display their traditional dishes, offering a tasty journey through Huddersfield's cuisine. You can find everything from filling Yorkshire puddings to exotic international treats.
On Sundays, the market becomes a bazaar of household products, presenting a broad selection of quality items, from retro furniture to handmade crafts.
Engage with local charities, join workshops led by the community, or partake in cultural celebrations.
Huddersfield market isn't just a place for shopping, it's a vibrant stage where local organizations and activities thrive.
Importance of Feedback and Contact
Why does your feedback and contact matter when visiting Huddersfield Market? The answer is straightforward – your input allows the market to flourish. When you share your experiences, you help to improve and grow the market. Your feedback aids the refinement of the selection and services, ensuring the market remains relevant and appealing to all, including antique dealers and collectors.
Keeping in contact allows you to stay updated with the market schedules, particularly on Mondays and Tuesdays when the market is full of distinctive items.
Here's how your interaction contributes:
Your feedback can highlight areas needing improvement.
Your suggestions have the potential to alter the selection of goods.
Maintaining contact helps you keep abreast of upcoming events.
Your reviews, when published, draw more visitors to the market.
Market Schedule and Products Available
Huddersfield Market, teeming with life and activity, opens its stalls every Monday, Tuesday, Thursday, and Saturday. It provides a variety of products, from fresh, locally grown fruits and vegetables, to unique fabrics and fashion items. The market is conveniently situated in Huddersfield's center, making it easily accessible for residents and tourists.
Here's a brief overview of what's in store:
A plethora of fresh produce like fruits, vegetables, meat, and fish, mostly procured from local farms.
A vast collection of fabrics and fashion items for sewing enthusiasts or those seeking distinctive clothing pieces.
Various household goods and kitchenware items, ideal for those wanting to update their homes.
A bustling food court serving both traditional and foreign cuisines.
Whether you're a gourmet, a fashion aficionado, or simply enjoy a lively market, Huddersfield Market caters to a wide range of tastes and interests.
Unique Features of Huddersfield Market
Huddersfield Market isn't just a place to buy a broad range of products. This market has a set of distinctive characteristics that make it stand out.
It's nestled in a beautifully refurbished Victorian cast iron building, radiating a sense of historical allure.
Acknowledged for having one of the top second-hand markets in West Yorkshire, it serves as a popular spot for collectors and antique sellers.
Every other Sunday, the market morphs into 'Upmarket Sundays', a space for independent vendors, artists, and local food and beverage producers to display their goods. This event is famous for its diverse collection of bespoke gifts, retro clothes, home-baked cakes, and handmade accessories.
The food court also presents a delectable array of both traditional and foreign cuisines.
Sitting at the centre of Huddersfield, the lively ambiance of the market and its special offerings establish it as a destination worth visiting.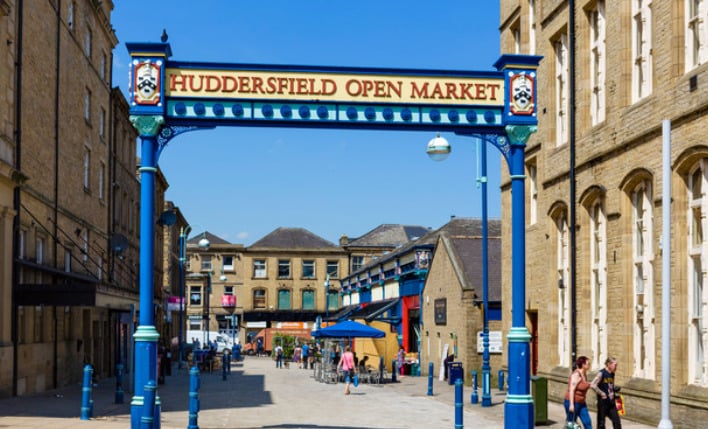 Location and Accessibility
Planning a trip to Huddersfield Market? You'll find it conveniently located at 6 Brook St, in the heart of Huddersfield, England. This prime location makes the market highly accessible, whether you're a resident or a guest.
Here's some helpful information to assist you in planning your visit:
Transportation: Numerous local bus routes serve the market, and it's a brief walk from the Huddersfield Train Station.
Parking: You'll find plenty of car parks in the vicinity, including the multi-storey Kingsgate Centre car park.
Accessibility: The market caters to all, being wheelchair-friendly and welcoming assistance dogs.
Facilities: On-site, you'll find public restrooms and baby changing facilities.
Don't forget to verify the opening days and hours before your visit to optimize your time at Huddersfield Market.
Information on Reviews and Events
Huddersfield Market is a bustling hub of activities and events that enhance its attractiveness and popularity. The market is known for its special events such as the well-loved 'Upmarket Sundays' that draw both locals and tourists.
Let's view some reviews and significant events:
| Reviews | Events |
| --- | --- |
| The market is highly rated for its lively ambiance and wide variety of goods. | 'Upmarket Sundays' showcases local crafters and food producers, providing a unique shopping journey. |
| The welcoming and friendly attitudes of the stallholders receive lots of compliments. | Seasonal celebrations like Christmas markets bring an added touch of holiday spirit. |
| The quality and cost-effectiveness of the products for sale are often emphasized by visitors. | Antique and collectible fairs are also held at the market, drawing collectors nationwide. |
Keep yourself updated on the latest events and review postings through the market's website.
Where To Stay Nearby
Popular Questions
Below you can see some of the common question we're regularly asked.
What Are the Payment Methods Accepted at the Huddersfield Market?
Your question pertains to the payment methods accepted at a market. Commonly, markets such as Huddersfield's are amenable to cash, but a good number of vendors also accept card payments. It is advisable to verify with individual stalls about their favored payment methods.
Are There Any Accommodation Facilities Available Near the Huddersfield Market?
Yes, numerous lodging options are available near the market. Hotels, B&Bs, and guesthouses are all conveniently located within a short walk. They offer a variety of services and come in different price ranges. It's suggested to secure your reservation early to get the best deals.
Are There Any Special Discounts or Offers Available at the Huddersfield Market?
You're inquiring about specific discounts or promotions at Huddersfield Market. The market itself doesn't advertise particular deals, but many vendors run their personal promotions. It's advisable to make a visit and check what's available on that particular day.
Are Pets Allowed in the Huddersfield Market?
If you're curious about whether pets are permitted at Huddersfield Market, it's important to know that policies can vary. It would be a good idea to look up the specific rules for Huddersfield Market or reach out to them directly to confirm.
What Are the Health and Safety Measures Implemented at the Huddersfield Market in Response to Covid-19?
You're curious about the COVID-19 safety protocols at the Huddersfield Market. It's probable that they've put into place specific steps such as maintaining social distance, mandatory mask usage, providing hand sanitizing stations, and possibly restricting the number of customers present at any given time.
Final Notes
That's it! Huddersfield Market isn't just a shopping spot; it's a lively community hub filled with local products and unique narratives.
It's easy to navigate with a detailed directory, frequent schedules, and straightforward access.
Don't overlook the opportunity to offer feedback and partake in events. Bear in mind, your participation aids in supporting local groups and enhancing the overall market ambiance.
Plan your next visit to Huddersfield Market and immerse yourself in an authentic English market experience.