A stunning walk to see a hidden gem of South Yorkshire, Sprotbrough Falls, just outside of Doncaster.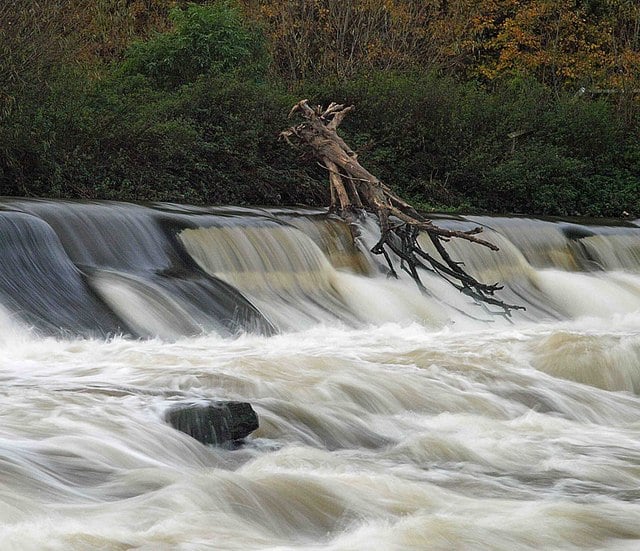 ---
The Route
what3words for start point: ///octopus.caravan.gilding
Start Point: Sprotbrough Bridge, Mill Ln / Boat Lane, Doncaster DN5 7SE
Finish Point: Sprotbrough Bridge
Distance: 4 Miles
GPX Route Map
Download file for GPS
---
Walk Description
Embark on a walk that is as much an exploration of history as it is a communion with nature. Your journey will take you along a fascinating stretch of the Trans Pennine Trail, a coast-to-coast path that links the Atlantic Ocean to the North Sea. Far from being a monolithic landscape, the area you'll traverse is a harmonious blend of industrial heritage and rich biodiversity. As you walk, you'll encounter ingeniously designed locks and weirs—testaments to human engineering that have shaped local waterways for commerce and navigation.
While the industrial aspects of the trail might capture your attention initially, it's the sheer diversity of wildlife that will keep you entranced. As you make your way, the scenery unfolds to reveal lush marshlands, expansive water bodies, and dense woodland areas. Each natural setting is a habitat, inviting you to be an observer of life in various forms. Keep your eyes peeled for the elusive Bittern, a bird renowned for its masterful camouflage among reeds and waterside vegetation. Listen for the unique calls of the Great Crested Grebe, a fascinating bird with striking plumage and an elaborate mating dance. And let the rhythmic drumming of Green Woodpeckers serve as a natural soundtrack to your trek. These avian residents add a dash of color and symphony to the already arresting panorama.
Your destination is the nature reserve at Sprotbrough Flash, a local gem that has earned its reputation as a haven for both indigenous and migratory species. The term "Flash" in its name refers to a wide, slow-moving section of a river, often created by subsidence due to coal mining activities. In this particular case, the Flash has become a flourishing wetland. Upon arrival, take some time to soak in the tranquility and marvel at how the area has been reclaimed by nature. The spot is particularly popular among birdwatchers, photographers, and those looking to escape the buzz of daily life.
One of the remarkable things about this walking route is its multi-faceted appeal. Here, engineering coexists with ecology; human history intersects with natural evolution. It's a setting where you can learn as much from the meticulously crafted locks as you can from the intricate nests of the Great Crested Grebe. Both are marvels in their own right, and they cohabit in a delicate balance that makes this stretch of the Trans Pennine Trail an unforgettable experience.
So whether you're an amateur naturalist, a history aficionado, or a casual walker seeking fresh air and peaceful moments, this journey towards Sprotbrough Flash has something for everyone. You'll walk away with a newfound appreciation for how diverse yet interconnected the world can truly be—all within the scope of a single, fascinating stroll.