Nestled in Doncaster's heart, the revitalised Wool Market is a buzzing epicentre of culture and commerce. With a rich tapestry of 37 independent businesses, it offers a diverse blend of international foods, unique services, and handcrafted goods.
Infused with live music and an enticing array of aromas, the market fuses modern vibrancy with historic charm. An unmissable experience for locals and tourists, it embodies the spirit and innovation of Doncaster.
Points Of Note
The Wool Market is a vibrant and popular market in Doncaster, known for its diversity.
It offers a range of international eateries and entertainment options, such as augmented reality darts and arcade games.
The market reopened in March 2019 after refurbishment and now houses 37 small and independent businesses.
Visitors can explore the market's medieval well under a glass floor and enjoy the vibrant and trendy atmosphere.
Exploring the Features of Wool Market
The diverse features of the Wool Market, including its vibrant atmosphere, array of international eateries, and unique elements like the preserved medieval well, make it a significant attraction in Doncaster.
Nestled in the heart of the town centre, the market boasts a rich heritage and is a testament to Doncaster's vibrant past.
Housing an impressive number of independent businesses, the market offers a plethora of retail units selling everything from fresh produce to artisanal crafts.
The medieval well, a relic from yesteryears, is a crowd puller, offering a glimpse into the town's history.
The Wool Market, with its eclectic mix of old and new, serves not only as a shopping destination but also a cultural hub, contributing to the town's unique charm and appeal.
Visiting Hours and Location Details
For detailed information on visiting hours and location specifics, please refer to the Wool Market's Facebook page or official website, and for inquiries about rental spaces or event planning, you can reach out to the provided email addresses or phone numbers.
The new Wool Market, nestled right in the heart of Donny, is not just a vibrant and trendy place but a nod to our rich history.
The Market is open from Thursday to Saturday, 9am to 10pm, and on Sunday from 10am to 6pm.
It is located in the heart of the bustling city, easily accessible from all corners of Doncaster.
Rental space opportunities abound for those looking to host events or start a shop.
With its modern leisure facilities, the market is a lively hub of activity, carrying forward the legacy of our local culture.
Getting to Know the Traders at Wool Market
Gaining insights into the unique background and offerings of each trader at the Wool Market enriches the overall shopping experience, providing a personal touch to every purchase. This diverse market, nestled in the heart of Doncaster, is a bustling hub of creativity, showcasing a myriad of handmade and artisan goods, each with a tale to tell.
Getting to know the traders offers an intimate understanding of the craft and dedication infused into each product. Ranging from local food stalls to vintage clothing, the Wool Market Doncaster is a testament to the region's rich heritage and vibrant culture.
Each review echoes the warm rapport built with traders, emphasizing the personal connection that sets this market apart. Revel in this unique shopping experience, where every purchase tells a story.
What's Happening: Events at Wool Market
While the Wool Market is renowned for its diverse traders and vibrant atmosphere, it's essential to keep up to date with their event calendar, as this cultural hub frequently hosts a variety of entertaining events that further enhance the visitor experience.
Upcoming Events: Be sure to check out the 'Thursday Quiz Night' or the weekend live music sessions that add a lively buzz to the market atmosphere.
International Eateries: From spicy Indian curries to Italian pizzas, the market offers a culinary tour around the world, making each visit a unique experience.
Rental Spaces: The Wool Market also offers rental spaces for those looking to host events amidst a backdrop of artisan goods and international flavours.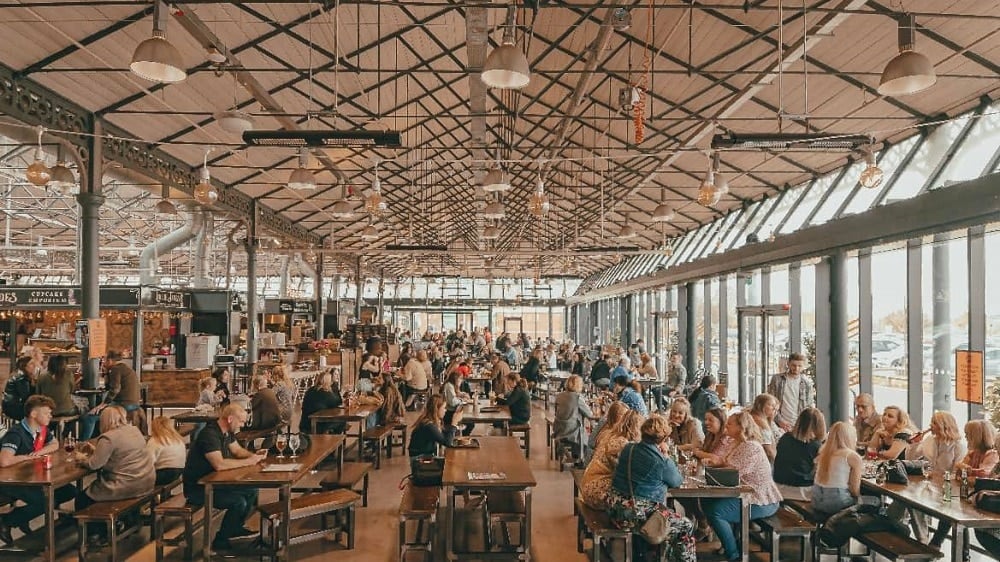 The Revamped Wool Market: What's New
Having undergone significant refurbishment, the revamped Wool Market now boasts a plethora of international eateries and houses 37 independent businesses. It has become a vibrant hub attracting a diverse crowd with its trendy atmosphere and unique offerings.
This most diverse market, set in the heart of Doncaster, offers a perfect spot to enjoy a variety of cuisines, shop unique items, or merely soak in the vibrant ambiance. With its trendy place, steeped in history and brimming with culture, it's no wonder the market draws both locals and tourists alike.
The Wool Market, once a symbol of Doncaster's rich trading heritage, has successfully transformed into a bustling, vibrant marketplace, reaffirming its position as one of Doncaster's top attractions.
Utilizing the Market's Diverse Facilities
The Wool Market's diverse facilities, including its international food court and entertainment zone, provide both a unique dining experience and leisure activities, but for a complete immersion, exploring the market's historical features, such as the preserved medieval well, is a must.
To truly appreciate all the markets, follow these tips:
Savour the handmade goods, each carrying a story of the local artisans.
Support small businesses by purchasing their unique offerings.
Take part in events and workshops, utilizing the market's diverse facilities for an enriching experience.
The Wool Market, steeped in Doncaster's rich history and culture, offers not just a shopping opportunity, but a fantastic voyage into the heart of the town's vibrant community. Engage, explore, and enjoy the true essence of Doncaster.
Opportunities for Space Rental at Wool Market
Regularly, Wool Market offers rental opportunities for both small and large spaces, ideal for independent businesses and event planners alike.
Nestled in Doncaster's historic centre, this medieval gem with its vibrant atmosphere provides a unique backdrop for all events.
Offering a diverse array of eateries, there's a wealth of opportunity to eat and drink, from traditional Yorkshire fare to global cuisines.
The market's rich history, seen in the preserved medieval well, adds a layer of intrigue for visitors.
As local as a pot of Henderson's relish, renting space at the Wool Market allows businesses to be part of Doncaster's thriving community.
With all these opportunities for space rental at Wool Market, it's a grand place to set your stall out.
A Closer Look at the Market's Different Sections
I am eager to explore the various sections of the market, and I am particularly intrigued by the International Food Hall and The Corn Exchange. The former, a gastronomic treasure-trove, boasts delicacies from every corner of the world. The scents and flavors are as diverse as Doncaster itself.
The International Food Hall: Here, you can embark on a culinary journey around the world without leaving town. The scents and flavors are as diverse as Doncaster itself.
The Corn Exchange: A testament to our town's rich past, the grandeur of this building is amplified by the recently discovered medieval well beneath the glass floor.
Events: The market frequently hosts family events, making it a vibrant hub of community activity.
These sections provide a snapshot of the market's diverse offerings, reflecting the multicultural fabric of our town.
A Walkthrough of the Wool Market Gallery
Delving into the Wool Market Gallery's intriguing visuals, one can grasp the market's diverse culture and vibrant atmosphere, and simultaneously gain insight into its offerings.
The gallery brims with images of pretty good instagrammable spots, showcasing the market's unique character and history. From the ancient medieval well beneath a glass floor, a nod to Doncaster's rich past, to the bustling international food court, each picture tells a captivating story.
Whether you're interested in spending a week exploring, looking for a relaxing day out, or planning a memorable date, the gallery provides a visually rich guide to the offerings.
With its blend of old and new, the Wool Market Gallery offers a tantalising glimpse into Doncaster's most vibrant market, beckoning visitors to explore and experience its charm firsthand.
Where To Stay Nearby
Popular Questions
Below you can see some of the common question we're regularly asked.
Are There Any Vegan or Vegetarian-Friendly Food Options Available at the Wool Market?
Yes, the market provides various vegan and vegetarian-friendly food options. Traders offer a diverse range of international cuisines, ensuring there are choices to accommodate differing dietary preferences. Check individual stalls for specific offerings.
Are Dogs Allowed in the Wool Market?
Yes, the Wool Market in Doncaster is dog-friendly. Visitors are allowed to bring their dogs, providing they are well-behaved and kept on a leash. However, this may vary for individual stalls and eateries.
Does the Wool Market Have Wheelchair Access and Other Facilities for Disabled Visitors?
Yes, the Wool Market is wheelchair accessible and equipped with facilities for disabled visitors, including accessible restrooms. For additional assistance, staff members are readily available and eager to help ensure a comfortable experience.
What Are the Modes of Payment Accepted at the Wool Market's Food Stalls and Shops?
The Wool Market's food stalls and shops generally accept a variety of payment methods, including cash, debit and credit cards, and mobile payment apps, providing convenient and flexible options for all customers.
Final Notes
The Wool Market in Doncaster, with its rich history and vibrant contemporary culture, serves as a compelling hub for commerce, entertainment, and gastronomy.
Its multifaceted offerings, from international food stalls to unique artisan crafts, coupled with its commitment to fostering local enterprise, make it an essential destination for both locals and visitors.
With its strategic blend of tradition and modernity, the Wool Market truly represents the heart of Doncaster's vibrant community spirit.
Don't forget you can also visit other famous attractions such as Doncaster racecourse.