You're about to step into the historic heart of Skipton – its bustling market! Here, every Monday, Wednesday, Friday, and Saturday, you'll find a vibrant mix of old and new. From fresh local produce to unique global finds, there's a story behind every stall.
Don't just wander, dive in, and experience a piece of Yorkshire's rich history. Whether you're a curious visitor or an aspiring trader, Skipton Market offers a truly unique experience and one of great things to do in Skipton. A Skipton boat trip may also be in order?
What You'll Learn
Skipton Market is an outdoor market on Skipton High Street, operating four days a week.
Traders can take advantage of the Monday Incentive Scheme for new businesses, offering 8 free consecutive Mondays on council-run pitches.
Interested traders can apply for Skipton Market by completing the application form and returning it to the Market Management Team.
Skipton Town Council's permission is required for market-related activities such as car boot sales, craft fairs, and flea markets.
The Rich History of Skipton Market
You're delving into the rich history of Skipton Market, which has been a hub of trade since medieval times. It's fascinating to learn that the market's history dates back to when King John granted consent for a market charter, shaping Skipton into a bustling trading town.
The market, set against the backdrop of the magnificent Skipton Castle, offers a captivating blend of the past and present. It's not just about shopping; it's about experiencing a piece of Yorkshire's heritage that has thrived for over 800 years. The echoes of the past resonate in the lively chatter of traders, the vibrant array of stalls, and the historic cobbled streets.
Your exploration of Yorkshire isn't complete without a visit to Skipton Market. Come, be part of a tradition that's as alive today as it was in medieval times.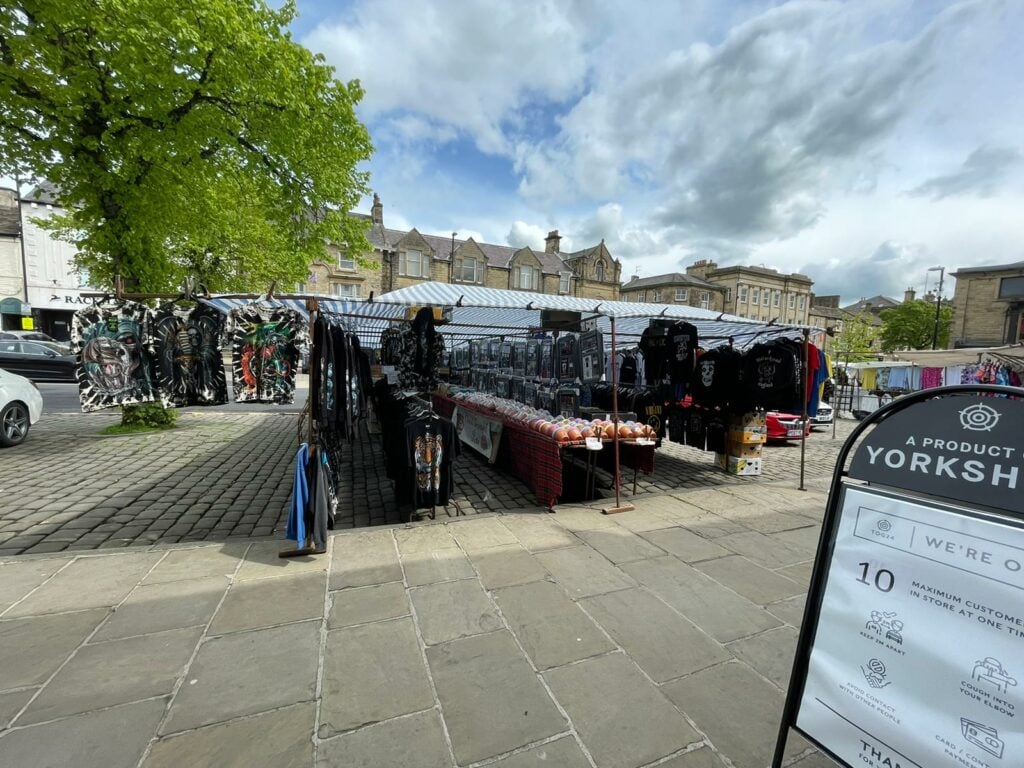 Getting to Know the Market's Layout
Once you've picked up a handy map, you'll begin to get a feel for the market's layout, but don't rush it, take your time to soak in the vibrant atmosphere.
Skipton Market, a gem in Yorkshire's crown, beckons you with its array of stalls, each one a treasure trove of local produce and crafts. Market day brings the town to life as traders, locals and tourists mingle in a cheerful dance of commerce and camaraderie.
Marvel at the rich tapestry of goods on offer, from fresh Yorkshire produce to handcrafted jewellery. Navigate the cobbled streets, rich with history and culture – a testament to Skipton's medieval past.
What to Expect at Skipton Market
While you're exploring Skipton Market, you'll find that it's not just about shopping, but also a unique cultural experience brimming with local charm, history, and tradition. Nestled in the heart of the Yorkshire Dales, this vibrant outdoor market offers:
Diverse market days: Each day presents a different flavor, with traders selling everything from fresh produce to unique gifts, ensuring an ever-changing shopping experience.
Historic ambiance: Skipton Market retains its traditional charm with cobbled streets and centuries-old establishments surrounding the market area.
Local culture: Embrace Yorkshire's warm hospitality as you interact with traders, taste local delicacies, and immerse yourself in the bustling market atmosphere.
Unraveling the Market's Trading Schedule
In understanding the Skipton market's trading schedule, you'll notice that it operates every Monday, Wednesday, Friday, and Saturday, but there's also an additional market day before Christmas. This age-old tradition harkens back to Skipton's rich history and bustling local culture.
The market times, typically from 9 am to 4:30 pm, are perfect for early risers or afternoon strollers. On Fridays and Saturdays, Skipton market comes alive with the buzz of locals and tourists alike, exploring the myriad of stalls offering local produce and unique crafts.
This vibrant market, set amidst the picturesque Yorkshire backdrop, is a testament to the region's enduring heritage. It's not just a trading place; it's a pulsating heart of Yorkshire, inviting you to become part of its timeless narrative.
Special Events and Additional Market Days
You'll find that Skipton Market not only operates on regular days but also holds special events and additional market days before Christmas, creating an even more festive and vibrant atmosphere.
Skipton Market: It truly captures the essence of Yorkshire's history and culture. Stepping onto Skipton High Street, you're transported to a medieval fair bustling with traders.
Special Events: These are often planned around the year, including the much-anticipated Artisan Market. Here, local craftspeople showcase their unique creations, adding a distinctive flavour to your shopping experience.
Additional Market Days: Before Christmas, the frequency of market days increases. These extra days brim with festive cheer, making it an ideal time for holiday shopping.
Exploring the Variety of Goods at Skipton Market
How often do you get the chance to explore a market like Skipton's, brimming with a variety of goods ranging from local produce to unique gifts? The Skipton Market, steeped in history and tradition, offers an array of stalls lining the high street, each one a treasure trove waiting to be discovered.
| Skipton Market | Why It's Worth Exploring |
| --- | --- |
| Variety of Goods | From handmade crafts to homegrown produce, there's something for everyone. |
| High Street Location | Explore the market while enjoying the charm of Skipton's high street. |
| Rich in History | Trading since medieval times, you're participating in a centuries-old tradition. |
| Yorkshire Culture | Experience true Yorkshire hospitality from friendly traders. |
| Tourist Hotspot | A must-visit destination for any Yorkshire tourist itinerary. |
Enjoying Local Produce and Delicacies at Skipton Market
There's nothing quite like tasting fresh local produce at Skipton Market. As you stroll through the bustling market, you'll be immersed in the rich history of Yorkshire.
Take a bite of a juicy apple, fresh from the orchard, and you'll taste years of dedicated farming.
Savor the rich, hearty flavors of locally made pies and pastries, each recipe reflecting Yorkshire's culinary heritage.
Don't miss out on the artisan cheeses, a true testament to the region's dairy craftsmanship.
Each stall at Skipton Market is a showcase of the love and passion locals have for their food and culture.
Understanding the Monday Incentive Scheme for New Traders
As a new trader, you're eligible for the Monday Incentive Scheme, and it offers you free pitch for eight consecutive Mondays.
Imagine setting up your stall in Skipton Market, a vibrant hub that has thrived since the Royal Charter granted it over 800 years ago. You'd be joining a rich history, peddling your wares on the same cobbled streets where countless traders have stood before you.
This isn't just a chance to sell; it's an opportunity to engage with a community steeped in tradition, to become a part of Yorkshire's lively cultural tapestry.
Application Process for New Traders
You'll need to fill out the application form and send it back to the Market Management Team to kick off your journey as a new trader at Skipton Market. Immerse yourself in the town's rich history and vibrant culture as you contribute to the bustling market scene.
Here's the process:
Download the application form from the official Skipton Market website.
Complete the form, providing detailed information about your trading business.
Return the form to the Market Management Team, ready to review your application.
How to Organize Car Boot or Ad-hoc Sales at Skipton Market
In order to organize a car boot or ad-hoc sale at Skipton Market, you've got to secure permission from Skipton Town Council first, and they'll provide you with all the necessary guidelines and application forms.
Nestled in the heart of Yorkshire, Skipton Market is steeped in history and culture, offering a delightful experience for both locals and tourists. This bustling market, dating back to medieval times, offers an ideal setting for your sale. You'll be rubbing shoulders with traders selling local produce, handcrafted goods, and unique wares.
Organizing Events: What You Need to Know
When you're planning to organize an event at Skipton Market, it's crucial to familiarize yourself with the Council's guidelines and requirements. Here's what you need to know:
Skipton Market, resting on the historic main road, is steeped in tradition, with a royal charter granted consent for its operations centuries ago.
Organizing events at this iconic venue requires adherence to specific rules to preserve its heritage and maintain the unique atmosphere.
Event proposals must be submitted to the Council for approval, ensuring they align with the market's ethos and community spirit.
Nearby Attractions to Visit After Skipton Market
There's a plethora of attractions nearby Skipton Market that you shouldn't miss after a day of shopping.
As a historic sheep town, Skipton's rich history dates back to King John's era, with the Holy Trinity Church reflecting its medieval past.
Take a leisurely stroll to the canal basin, a vibrant hub where old meets new. Here, you can embark on a boat trip, offering a serene way to explore the Yorkshire countryside.
Don't miss Skipton Castle, a well-preserved fortress with over 900 years of history.
Experience the local cuisine at quaint eateries, serving traditional Yorkshire fare.
What to Expect From Skipton Market Tours and Experiences
As you embark on Skipton Market tours and experiences, you'll discover a vibrant outdoor market rich in history and tradition, offering a unique shopping experience that shouldn't be missed. This market has been an integral part of Skipton since medieval times, providing locals and visitors with a place to find quality goods.
Here's what to expect:
History: Skipton Market has been operating since the 12th century, making it a real slice of Yorkshire history.
Variety: From fresh produce to handmade crafts, there's no shortage of unique items to discover.
Atmosphere: Enjoy the lively buzz of traders selling their wares, the smell of fresh food, and the charm of this centuries-old market.
Don't miss out on this quintessential Yorkshire experience!
Visitor Reviews and Feedback About Skipton Market
You're currently discussing visitor reviews and feedback about Skipton Market, which is crucial in understanding the market's appeal and areas for improvement.
As a historical gem, Skipton Market embodies Yorkshire's rich culture. Visitor reviews often praise the variety of shops and the jovial atmosphere, reflecting the market's unique charm.
However, feedback also highlights areas for enhancement, particularly in diversifying the market's produce offerings and services.
While it's clear that Skipton Market continues to be a cornerstone of Yorkshire tourism, these reviews serve as a valuable guide for maintaining its relevance.
How to Get Involved in Skipton Market as a Trader
Every aspiring trader has a chance to join the vibrant Skipton Market community, but first, you'll need to understand the application process and guidelines. Here's how you can get involved:
Application: Obtain the Skipton Market application form, fill it out with all the necessary details, and submit it to the Market Management Team.
Risk Assessment: Complete the Risk Assessment Template that's part of your application to ensure safe trading practices.
Monday Incentive Scheme: As a new trader, you can take advantage of this scheme which offers free trading on Mondays for two months.
Is There Any Parking Facility Available for Visitors Near Skipton Market?
Yes, you'll find several parking options near the market. Skipton's High Street offers pay-and-display spots, and there are also large car parks at Coach Street and Cavendish Street within easy walking distance.
Are There Any Specific Rules or Regulations for Visitors at Skipton Market?
Yes, there are rules at every market. You're expected to respect vendors, not block stalls, and handle goods with care. It's prohibited to bring pets, except service animals, or to litter. Enjoy responsibly!
Can Traders From Outside Skipton Apply for the Monday Incentive Scheme?
Yes, you can apply for the Monday Incentive Scheme, even if you're not from Skipton. It's a great chance to experience market life and it's open to new businesses. Just follow the application process.
Are There Any Facilities for Individuals With Disabilities at Skipton Market?
Yes, Skipton Market caters for individuals with disabilities. They've ensured accessible walkways, ramps and parking. However, it's recommended you check their website or contact them directly for specific accessibility information.
What Are the Safety Measures in Place at Skipton Market Amidst the Covid-19 Pandemic?
You'll find safety measures like social distancing, hand sanitizing stations, and mask requirements applied to ensure public health during the ongoing Covid-19 pandemic. It's all about keeping you safe while you enjoy your visit.
Final Notes
So, you've journeyed with us through the charm and vibrancy of Skipton Market. Remember, it's not just a market; it's a slice of Yorkshire's rich history and culture. Whether you're hunting for unique treasures, keen to dip your toes into the trading world, or simply soaking up the lively atmosphere, Skipton Market promises an unforgettable experience.
So, come on down, immerse yourself in the market's tales, and start penning your own Skipton story.
Other markets you may be interested in include the Hebden Bridge market.