This circular walk visits two of the highlights of Ilkley Moor and Burley Moor in West Yorkshire.
Remember to take your hat…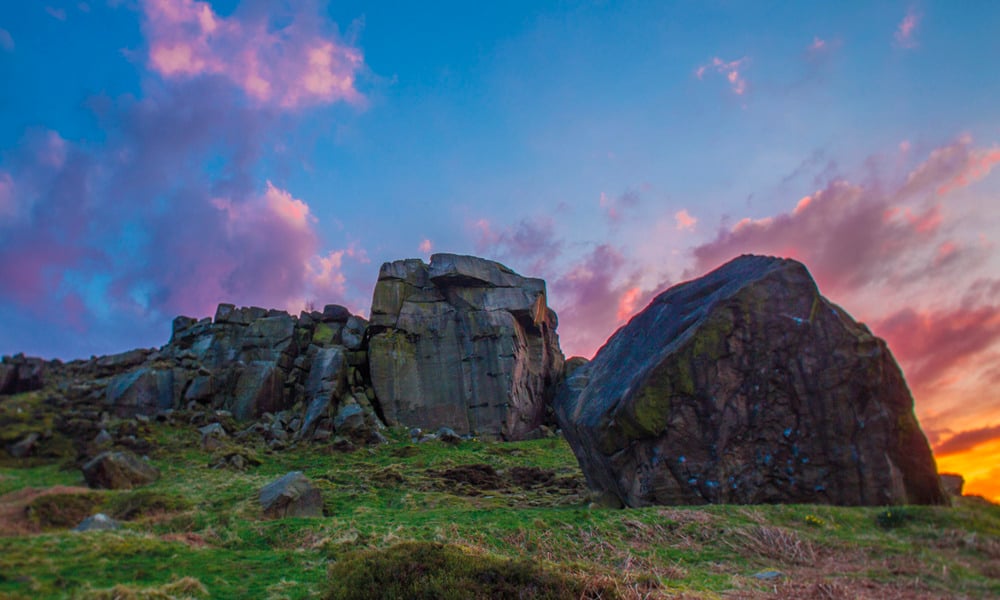 Cow and Calf, Ilkley Moor
Route
what3words for start point: ///stocks.flats.tissue
Distance: 5 miles
Start location: Cow and Calf parking area
Finish Location: Cow and Calf parking area
OS Map & GPX Download
The route is mapped below on our OS map. Download it using the link below for your navigation or mapping apps.
Download file for GPS
---
Walk Description
Ilkley Moor has always been a very special place for people in Yorkshire. Tranquil and picturesque, this walk combines stunning scenery with an opportunity for those in search of solitude. The famous song, "On Ilkley Moor baht 'at", is a stirring anthem about the moor's incredible panoramas and heather covered landscapes. To avoid the crowds you can return to West View through Rocky Valley.
The walk is stunning in the late summer and early autumn when the heather blooms. Start from the Cow and Calf parking area on Hangingstone Road, just to the south east of the town of Ilkley. Pick up footpaths onto the moor which will take you to the famous 'Cow and Calf', a large rock formation consisting of an outcrop and boulder, also known as Hangingstone Rocks. The distinctive millstone grit rocks are so named because one is large, with the smaller one sitting close to it, like a cow and calf.
From there you can watch cyclists trying to beat their PB on the challenging hill below or just marvel at the incredible vista in front of you. Head west and your next stop is at Backstone Beck. To get to the Twelve Apostles stone circle follow the footpath running south along the beck. The bronze age stones are an impressive sight, set in an elevated position on Burley Moor, nearly 400 metres above sea level. The circle originally had between 16 and 20 stones, but it is now reduced to 12 stones with a diameter of about 15 metres. After taking some pictures of the stone for Instagram and discussing how they even got there, continue east across Burley Moor to the pretty Lower Lanshaw Dam. The path passes along the northern end of the water before linking up with the Ebor Way long distance footpath. You will then head back to the car park and the finish point of the walk by following the path in a north west direction. The Cow and Calf pub is perfectly positioned for a post-walk pint, food and feet up.