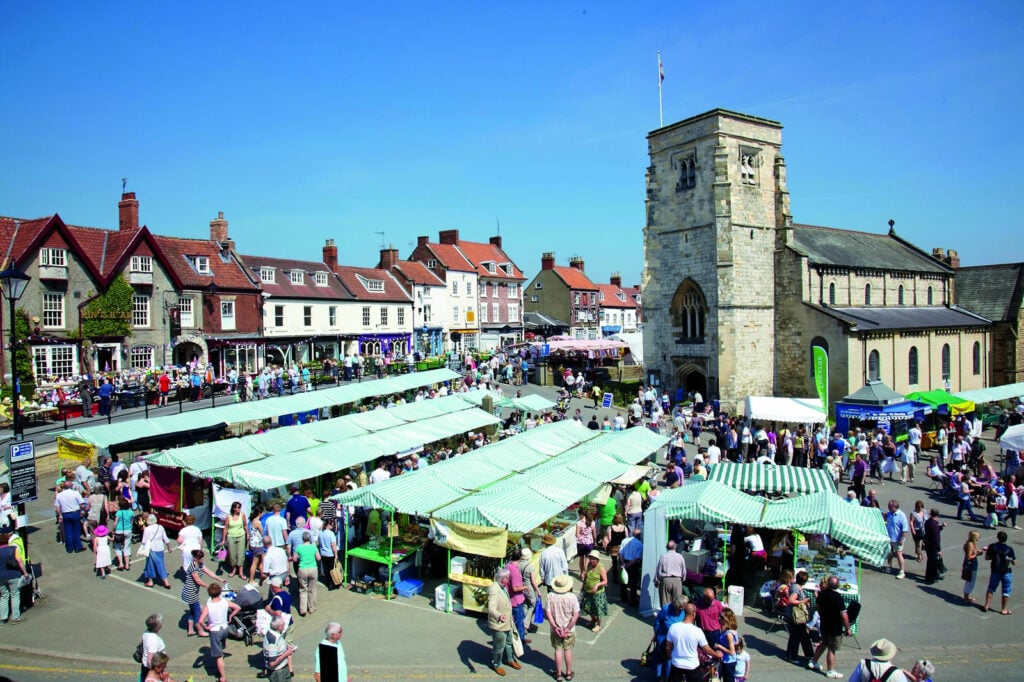 Town & City Markets
There are many traditional markets in Yorkshire for you to visit. They are a great place to pick up quality fresh local produce as well as good place to get a feel for the local scene. Below is just a selection of quality markets around the county.
Leeds Kirkgate Market – For a unique market experience visit Kirkgate Market in Leeds. It's the largest indoor market in Europe with over 400 stalls brimming with all sorts of foody goodies. The listed Victorian market hall is a sight to behold, boasting ornamental wrought iron casings and grand stone archways. Traders in the market hustle to sell fresh yam, crab claws, succulent joints of meat, exotic spices and much more.
Huddersfield Open Market's are bustling & full of well-stocked stalls with everything you need from fabrics to fashion, hardware and household goods. The markets are a vital part of Huddersfield's town centre with shoppers attracted by the superb bargains and sheer variety of goods on sale.
Otley Market – situated in the beautiful and undisturbed countryside of Lower Wharfedale, yet only ten miles from the city of Leeds. Steeped in history, Otley lies on the boundary between North and West Yorkshire. Main market on Friday and Saturday, small market on Tuesday.
Barnsley Market – Barnsley Market is located in the heart of Barnsley Town Centre. In 1996 the markets were extensively refurbished and today there is a bright modern shopping atmosphere with over 300 stalls in indoor and open areas.
Pudsey Market – Located at the side of Pudsey bus station the market offers a wide range of products. The market was recently re-built and has traders selling items ranging form groceries to electrical goods, crafts to fashion.
Yeadon Market – Yeadon Market is held in the Town Hall square every Monday and Friday between 8.30am to 3.30pm and offers a wide range of food and household goods.
Helmsley Market – The Market is held in the central ancient Market Square every Friday and is alleged to date back to the 13th century.  A charter was created by Robert de Ros to his Burgesses of Helmsley. There is some doubt as to whether this Charter was incorporated and may have been suppressed by the Earls of Rutland around 1520, however a market has taken place on the current site since 1467.  
Farmers' Markets
There is nothing more quintessentially Yorkshire, than the traditional Yorkshire Market Town. Scattered across the county, these picturesque towns are the perfect place to pick up the freshest produce and discover hidden gems within beautiful surrounding countryside. For some extra special local produce, visit one of Yorkshire's increasingly popular Farmers' markets:
Grassington Farmers' Market, 4th Sunday, monthly
Harrogate Farmers' Market, Cambridge Street, 2nd Thursday, monthly
Holmfirth Farmers' Market, Market Hall, 3rd Sunday, monthly
Malton Monthly Food Market, Market Place, 2nd Saturday, monthly
Otley Farmers' Market, Market Place, last Sunday of the month
Skipton Farmers' Market, 1st and 3rd Sunday, Monthly
South Cave Farmers' Market, School Ground, 2nd Saturday, monthly
Knaresborough Farmers' Market, Market Place, 3rd Sunday, monthly
Wetherby Farmers' Market, Market Place, 2nd Sunday, monthly
Orton Farmers Market, Orton, Cumbria, 2nd Saturday monthly
Humber Bridge Farmers' Market – Held on the first Sunday of every month (except January), the market features more than 100 stalls and attracts over 5,000 people making it one of the largest in Yorkshire. Expect the best seasonal, regional produce as well as a dedicated section for arts and crafts.
Saltburn Farmers' Market, Saltburn Square, 2nd Saturday, most months
Stokesley – First Saturday of the month
Thirsk – First Sunday of the month
Northallerton – Second Sunday
Easingwold – Third Wednesday
Artisan Markets
Easingwold – Second Saturday
Market Days
Monday: Halifax, Pickering, Selby, Skipton, Thirsk, Todmorden, Rotherham, Yeadon, York, Scarborough, Hull, Leeds , Shipley
Tuesday: Bedale, Doncaster, Halifax, Hawes, Otley, Settle, Sowerby Bridge, Todmorden, Whitby, Scarborough, York, Hull, Leeds
Wednesday: Beverley, Bridlington, Halifax, Hebden Bridge, Kirkbymoorside, Knaresborough, Masham, Northallerton, Todmorden, Skipton, York, Scarborough, Hull, Leeds, Bingley
Thursday: Guisborough, Halifax, Hebden Bridge, Holmfirth, Ripon, Sowerby Bridge, Todmorden, York, Scarborough, Driffield, Richmond, Hull, Leeds
Friday: Doncaster, Easingwold, Elland, Halifax, Helmsley, Leyburn, Otley, Reeth, Skipton, Sowerby Bridge, Stokesley, Todmorden, York, Filey, Scarborough, Yeadon, Rotherham, Hull, Leeds, Bingley, Shipley
Saturday: Beverley, Bridlington, Doncaster, Guisborough, Halifax, Malton, Masham, Northallerton, Otley, Richmond, Ripon, Skipton, Sowerby Bridge, Thirsk, Todmorden, Whitby, York, Scarborough, Driffield, Rotherham, Hull, Leeds, Bingley, Shipley
Sunday: Bridlington, Catterick, Todmorden, York, Hull, Leeds